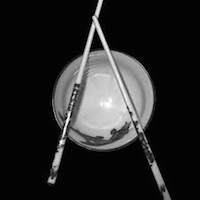 Emotional Tourist: A Steve Scott Retrospective
Studio Edwards is pleased to be able to offer this career-spanning CD from the like-minded Steve Scott.
"Thinking person's Christian rock by Christian rock's thinking person," Jerry Wilson wrote in a review of "Emotional Tourist" when it was released in 2012. This disc explores the many sides of British poet/musician Steve Scott, from his most popular songs to his most experimental. It begins with a Larry Norman-produced garage band version of "Different Kind of Light", later covered by the 77s on their debut album. The next eight songs have a sort of '80s new wave vibe, and are collected from various sources, including alt versions and lost tracks. "Love in the Western World" is remixed from Scott's critically-acclaimed 1983 album of the same title, and "Ghost Train" was a crowd favorite at Chicago's Cornerstone Festival.
The last six tracks are taken from Scott's spoken word over music albums. Some are drawn from Scott's continuing series of poetry/travelog journals collectively known as "The Boundaries". Steve comments on each song in the included eight page booklet. For fans of Larry Norman, Randy Stonehill, Daniel Amos, David Edwards, Mark Heard, Mike Knott, Bruce Cockburn, Dann Gunn, and the Choir.